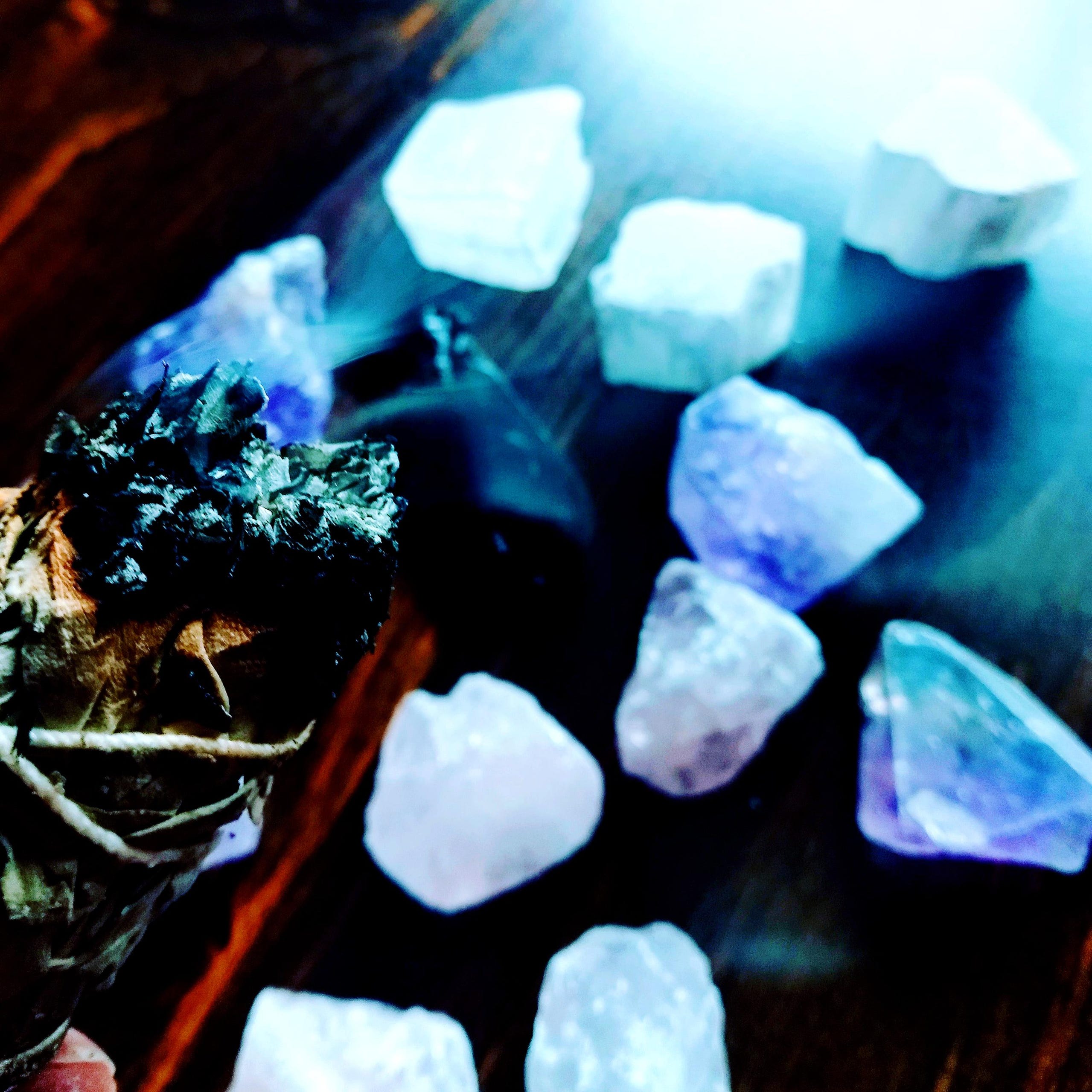 Sage + Sovereign
Energy Apothecary.
Handcrafted Essential Oil products infused with Crystals and White Sage.
About Us

Sage + Sovereign designs products and gifts to be used for balancing personal energy. We use White Sage Essential Oil and/or White Sage Leaf, Proprietary Blends of Essential Oils and specific crystals in each product to create an energy profile to be sprayed, massaged, applied or burned to induce balance in the personal energy system. Each unique blend contains White Sage, an Essential Oil profile designed to promote the desired energy and a specific Crystal that compliments that profile. And they just smell really sexy!



Our Story
Sage and Sovereign Products are the result of over a decade of my personal experiences with Holistic Healing. Diagnosed very young with chronic disease, I set out on many adventures (and misadventures!) experimenting with different health modalities when traditional medicine left me short of true health. I was always treating symptoms and combating side effects and although I value its efforts and achievement, I was never able to fully heal with traditional medicine alone. Over the years, I developed a strong belief that much of modern chronic dis-ease is related to energy, and that energy is related to emotion, and that emotion can be linked to our environments. With this in mind, and the awareness that our nervous systems directly affect our immune system, I sought out to heal the root of my health conditions. Some of the tried and truest of my experiences, left me with evidence that energy can be changed and hence the promotion of healing is best done using tools with a heritage much older than ourselves. The tools that have proved to be invaluable to me have been; white sage, essential oils, herbs and crystals. White Sage is an Herb used for centuries in smudging ceremonies to clear people, places and objects of negative energy. I use it regularly to release energy around the Full Moon but I've also come to use it when the household has become ill or when we have been energetically in a slump. Aside from it's energy clearing properties esteemed by our ancestors, White Sage is also an antibacterial agent, an anti-pathogen and can be used for everything from a simple decongestant or eczema treatment all the way to helping to manage insulin levels and made into a tea for indigestion and sore throats. Not to mention, thwarting evil spirits! Plant medicine is also a very old modality. For centuries, we have collected essential oils and herbs from the earth to heal common ailments. Crystals and Minerals are born of the earth, and that makes sense why with their individual profiles, they can invoke or induce healing properties when worn or carried or infused in tonics for healing and balancing energy. When our energy is clear and balanced, our nervous system and immune systems work in harmony for optimal health and I find that having these little tools handy, made with complete integrity and love, help to minimize the constant stress, environmental and energy assailants that live in our modern world. I hope more than anything that you enjoy these products and they help to promote your best health. If you try and love our products, I thank you from the bottom of my heart! If you have any questions or concerns, please let me know at sageandsovereign@gmail.com.
Thank you!
-HUS, Proprietor, Sage+Sovereign